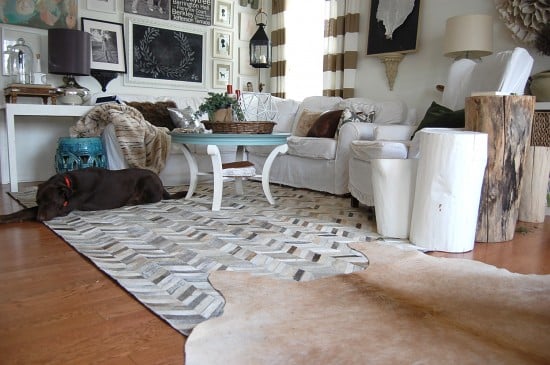 2013 brings a new year and a fresh ideas to your
interior design
. Many of us are ready to start our Spring cleaning already, shed the old, used elements of our design and accessories and replace with bright new interior design and home accessories finds.
One great way to accent your home, any time of the year - is with a
cowhide rug
. A blogger, The Nester - on her blog, The Nesting Place - has had inspiration move her this week to do a bit of rearranging and repositioning in her home. She already had a natural hide rug she'd bought Black Friday, but decided she needed to add another.
The addition was none other than a laser cut area rug, in a beautiful chevron pattern. The colors matched her decor perfectly, and she even went so far as to layer the rugs together to beautiful effect.
We sell the laser cut
area rugs
as well, and it's hard to describe their beauty and durability - and it's also hard to list each one individually because they're just gorgeous and all unique in their own way.
We were thrilled to have stumbled across this blog post, and this blog - because we're pretty sure The Nester LOVES her cowhide!
Photo Credits: The Nester - Sources and Story on The Nester Nesting Place blog.